The Chickenosaurus is a project being proposed by paleontologist Jack Horner and several other scientists. The aim is to create a chicken with a long tail, arms and sharp teeth (Source 1).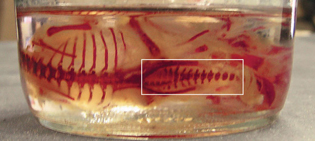 The idea has already begun it's first steps.
In Februrary 2006, Matthew Harris in Wisconsin accidentally created a mutant chicken with alligator-like teeth (Source 3).
In August 2011, Arkhat Abzhanhov made a chicken embryo grow a snout by making a small hole in a fertile chicken egg and inserting a small protein bead. The snout grew within 2 weeks. However, ethical issues prevented the eggs from being hatched (Source 1).
1. Scientists undo evolution by creating a chicken with an alligator-like snout.
2. Chickenosaurus, wacky but true science idea of 2011.
3. http://www.scientificamerican.com/article.cfm?id=mutant-chicken-grows-alli